About Me
Deborah S. Kaufman, LCSW is a licensed clinical social worker specializing in individual, couples and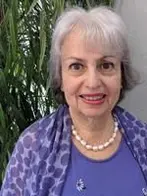 family psychotherapy and maintains a private practice in Sarasota, Florida.
With over 35 years experience as a clinician, and a graduate of Adelphi University in Garden City, New York and the Gestalt Center of Long Island, she is currently serving as private practitioner working with a broad spectrum of clients. Among her areas of expertise are treatment of anxiety and trauma, depression and relationship issues.
In addition, she has presented at national conferences and to general audiences on topics including stress management, sensory awarenes, effects of domestic violence on children and using techniques from gestalt psychotherapy and EMDR in clinical work.
Deborah S. Kaufman, LCSW is an experiential and solution focused psychotherapist. Her treatment approach is a combination of cognitive behavioral techniques that help clients understand how their thoughts and feelings affect their behavior and existential techniques that help clients increase awareness of their relationship with themselves and others to resolve current problems and long-standing patterns. She incorporates a blend of conventional and alternative approaches, drawing upon a variety of styles and techniques to incorporate what will be most helpful for each client. With sensitivity and compassion, she works with each client to help them build on their strengths to identify and achieve life goals.
Education

1993 - Post graduate work (63 credits) in Clinical Social Work (Child/Adolescent)
at New York University
1982 - Graduate Degree in Social Work (MSW) from Adelphi University
1976 - Bachelor of Art Degree in Psychology from City College of the City
University of New Yor
Additional Training

2012 - EFT (Emotional Freedom Techniques) Mentoring for Practitioner Status
2012 - Matrix Reimpriniting with EFT
2011 - EFT Level I and Level II Training
2007 - Rapid Trauma Release/Transformational Communication (Hypnosis)
2005 - Certificate in Critical Incident Behavioral Health
2004 - Certificate in EMDR (Level II)
1995 - Yoga teacher certification
1986 - Post graduate training program (3 year) in Gestalt Psychotherapy
License & Certifications
Licensed Clinical Social Worker - Florida SW 4881
Certified Gestalt Psychotherapist
Level II Certification in EMDR
Level II Practitioner Certification in EFT
Professional Activities and Memberships
Unit Chair of the Sarasota/ Manatee Unit of the Florida Chapter of the National Association of Social Workers (2005-2008)